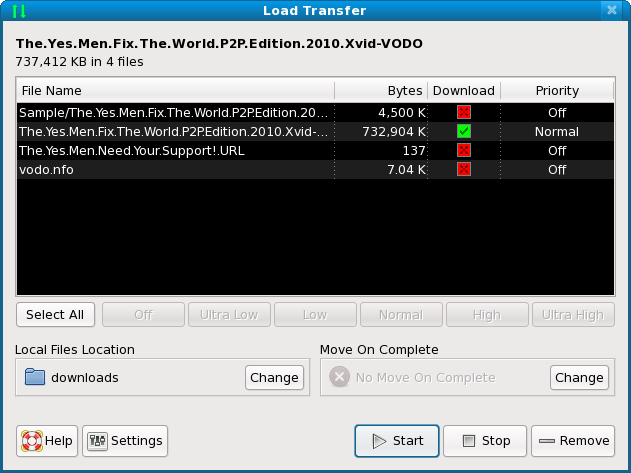 This window appears when a .torrent file is loaded, a magnet link is resolved, or a transfer is manually created from an RSS feed.
The files list allows the user to change the priority of any file before downloading starts. Files that are marked as "Off" or have a red X in the download column will not be downloaded and will not be created on your hard-drive. You can select multiple files by using the CTRL or SHIFT keys while left-clicking in the view. The priority of all selected files can be changed by using the buttons along the bottom or right-clicking and using the popup menu.
The download location on your local hard-drive can be changed in the "Local Files Location" frame. A location to move the files to upon download completion also be selected in the "Move On Complete" frame.
When you've completed adjustments, click the "Start" button to begin downloading right away. Click the "Stop" button to load the transfer in an inactive state. Click the "Remove" button to cancel the download and remove this transfer entirely.
An inactivity timeout is built into this window. After 3 minutes (or a different interval if it has been configured) the window will be dismissed automatically. This is to prevent magnet links that are slow to gather their meta-info from holding up other transfers that are loaded after.
The "Settings" button will present a popup menu with options to control the behavior of this window. There are settings which will prevent this window from appearing, and there are settings to control the inactivity timeout for this window.